Description
Apollonia on My Mind
Dr Nic Flemming
This book is offered to HDS Members for a limited period at a discounted price of £40 (RRP £64).
HDS member, Nic Flemming's memoir recounts the life of a pioneer in ocean science. Each chapter describes a thread that structured his work: underwater cities, submerged Ice Age caverns dripping with stalactites, the limits to ocean exploitation, ocean climate change, prehistoric settlements on the continental shelf, ocean law, and safe scientific diving. The author is paralysed from the chest down and has used a wheelchair for the past 52 years; one chapter assesses how he has continued to work in rough conditions and at sea, visiting 60 countries since his accident.
Flemming's early experience with the Royal Marines Special Boat Service provided the foundation for a scientific research career under water. Intrigued by a report of a sunken city seen from a helicopter, he set out to map the submerged Greek city at Apollonia, near Benghazi, in 1958-59, as a Cambridge undergraduate. Doctoral research on the cause of submergence and uplift of hundreds of coastal Mediterranean ruins was followed by adventures in now-submerged caves from the Ice Ages when the sea level was lower.
This is a multi-disciplinary adventure story that argues that different skills and fields can interact creatively with surprising results. It will be enjoyed by all those interested in the development of underwater archaeology, climate science, and ocean exploration.
Reviews include:
" … brilliantly written … mixes cracking stories with popular science .. showing the man behind the facemask."  Wreckwatch
"…he discovered Pavlopetri off the Peloponnese and in 2016 Pavlopetri was recognised by UNESCO as the oldest known underwater city in the world." International Journal of Nautical Archaeology
"… an amazing book that grabs the attention… Anyone who has HSE Scuba or uses the ACOP will find this part astonishing." BSAC Scuba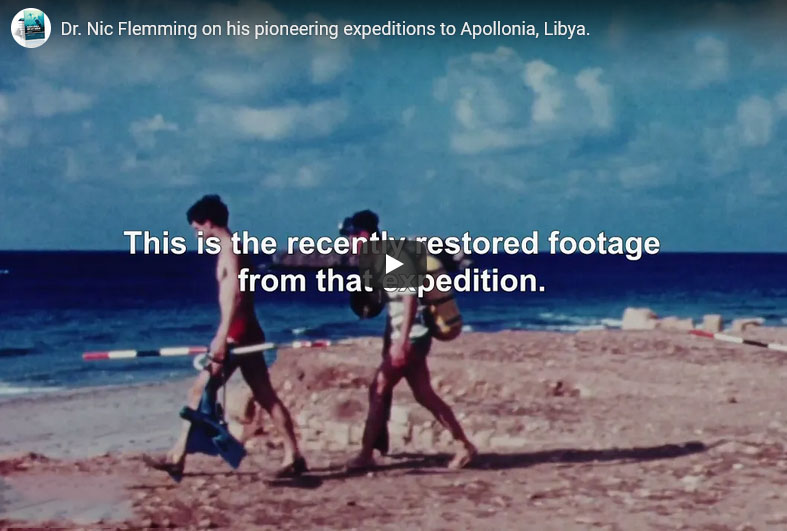 The Film
The original footage from the first expedition to Apollonia has recently been restored and contains some of the only existing documentation of the ruins as they stood in 1958. To watch the film and find more background information, please visit Nic Flemming's website.
Paperback
494 pages
B&W and colour illustrations throughout
182 mm x 257 mm (approx. 7.25 in x 10 in)
Honor Frost Foundation General Publication
2022, Sidestone Press